From the Desk of Silwar Naiilo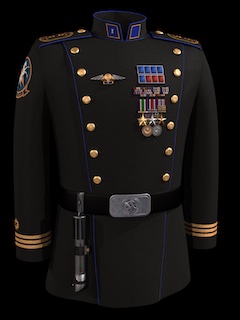 Tempest, unsurprisingly, has furthered its lead in TIE Corps in Battle. We now hold 140 points; Lambda is in second with 96, followed by Sin with 71. Last month we had missions flown by LC Phalk Sturm (who took second place in TIE), myself (who took third...), LT Coldsnacks, LCM Morgoth, and LCM Wreckage. The more the better - let's try for a 100 point lead! We only have until the end of next month, but it's possible.
We flew as the "Storm Knights" in the Cadet Cup, our first fleet battles competition. While we didn't win, we learned a lot thanks to LCM Honsou's leadership and advice. We continue to hone our tactics through LCM Wreckage's Tempest Raid Nights as well, which are temporarily Mondays and Wednesdays at 930pm EST. LCM Wreckage also took place in the Twin Suns fleet battles tournament, with a $20,000 prize at stake, fighting against thebest teams in the world. The finals are absolutely worth watching!
LCM Wreckage is hosting "Tempest King of the Mountain", a 1v1 Squadrons tournament. It offically started this week, and the first rounds should be completed by May 22. The first round will be:
LT Coldsnacks vs LC Phalk Sturm
CM Neko vs LCM EchoVII
COL Silwar vs LT Akreseus
LCM Morgoth vs CM Richlet
LCM Honsou and LCM Wreckage have a bye.
May TCiB assignments are due May 31:
Flight 1: Storm Knights
With this lance I judge, for he that dies pays all debts
Flight 2: Heralds of Maelstrom
The brightest thunderbolt is elicited from the darkest storm
Flight 3: Paladins of Fulmination
You'll see the lightning but will be dead before the thunder
Competitions
Tempest Raid Nights
until 2021-06-15 for the Tempest Squadron.
Every week on Monday and Tuesday, Tempest will assemble for both PvE/Co-Op and PvP matches on Star Wars Squadrons.
Inferno Signal Scramble
until 2022-01-01 for the ISD-II Challenge.
Fill in the acronyms from random letter combinations; Google Forms link posted to the Challenge Discord channel
MP Ace of the TIE Corps 2021
until 2021-12-31 for the Entire TC.
Pilots earn montlh and yearly medals for the most LoCs earned. Squadrons games not eligible.
SP Ace of the TIE Corps 2021
until 2021-12-31 for the Entire TC.
Pilots earn montlh and yearly medals for the most singleplayer missions played.