From the Desk of Silwar Naiilo
Neko's targetting computer showed "Unknown" as she moved to intercept the strange ship. It had two large engines, four huge deflector shield projectors, and a pair of heavy lasers in the front which it used to blast asteroids out of the way. Silwar and Neko had to weave around rocks, while this ship simply blasted them out of the way and allowed its shields to absorb any smaller pieces. "Some kind of militarized mining ship?" wondered Silwar aloud over the radio. "Stick to ion cannons if you can get a bead on this thing, and we can take it to the Science Office." A yell came over the radio as a stray rock clipped one of Neko's wings - "I'm damaged, stabilizers offline!" Silwar only had a moment to turn and help Neko, or pursue the ship. "Can you head to the planet below? I'll radio back for pickup." "Yes," replied Neko, looking warily at the tiny planet below. It had a thin atmosphere and some life readings, but hadn't been subject to any Imperial surveys, or at least any surveys that were loaded onto her nav computer. There was no telling what, or who, she'd run into below.
Tempest flew a few more Chalquilla Cup games this past weekend. We learned that we do best on Gallitan with interceptors, and could probably benefit from a support ship. Also, Kamjin got desparate and drank all of his wife's beverages; he's currently on a medical frigate to have his blood sugar levels tested. Best of luck, Sector Admiral.
MSEs have been evaluated by the COM; once the rest of the command staff have approved recommendations, medals will be going out.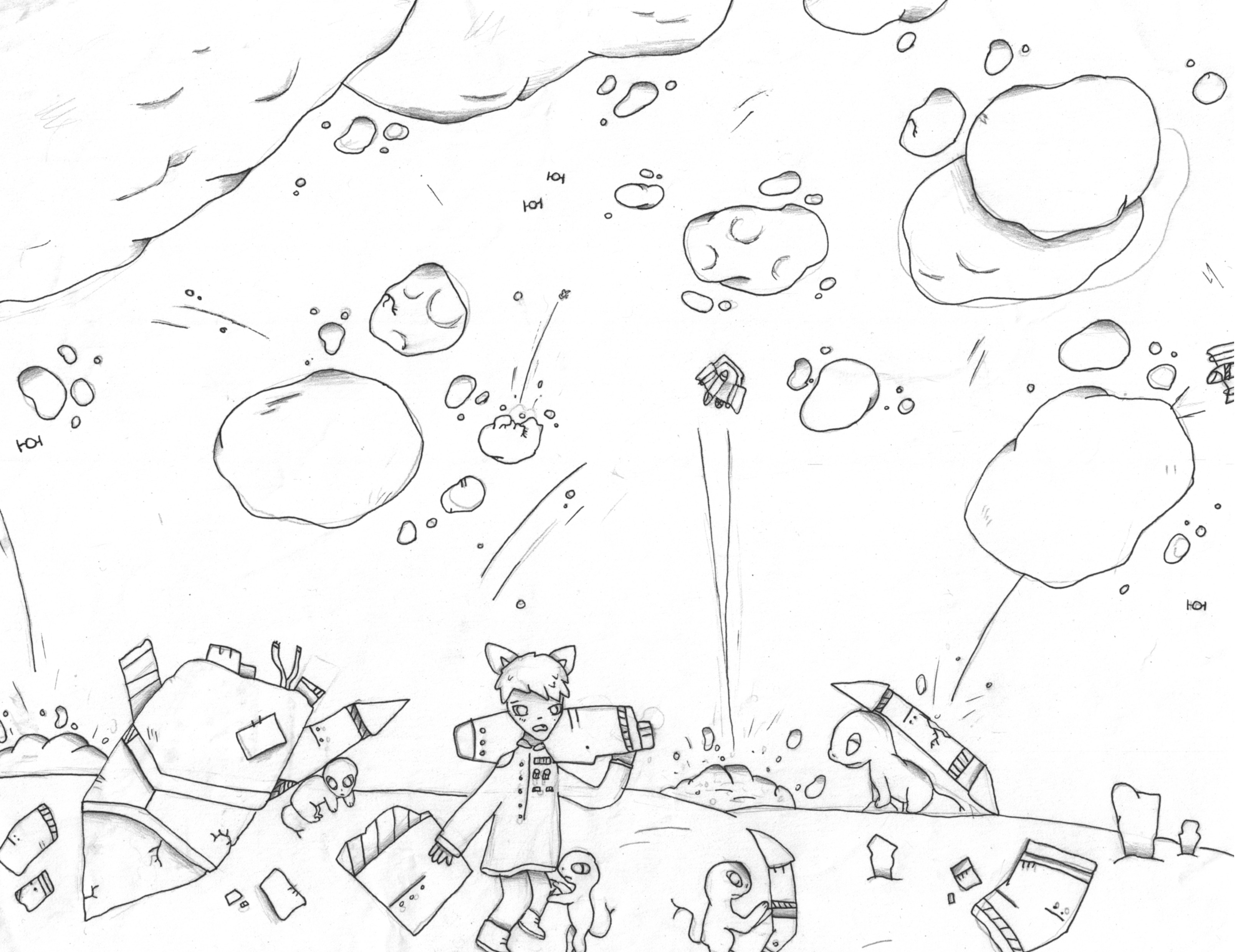 "Neko shields herself with wreckage", art by LCM Neko. Don't forget to take part in the coloring competition, "Stay In the Lines"!
February TCiB assignments are due February 31. Anything you can do, whether for high score or participation, will help! Ask in the Discord channel for tips.
Competitions
Better Know your Spacefighters
until 2021-02-28 for the Tempest Squadron.
Pick your spaceship, set it in your profile, and email / DM me an explanation, art of your ship, or a bit of fiction to explain why you picked your spaceship and its name.
The Chalquilla Cup I
until 2021-04-01 for the Entire TC.
3-person teams with up to 3 subs will sign up by January 14 and take part in 3v3 battles in Star Wars Squadrons.
Stay In the Lines
until 2021-12-31 for the Entire TC.
Choose any of the art in Tempests' WSRs, color it, and email it to Silwar. Awards monthly.
COO's Star Wars Challenge Episode VII - 2021
until 2021-12-31 for the Entire TC.
Accumulate the most missions in a Star Wars branded approved multiplayer platform. You may submit PvP battles (Legion of Combat) or PvE battles (Legion of Skirmish).