From the Desk of Silwar Naiilo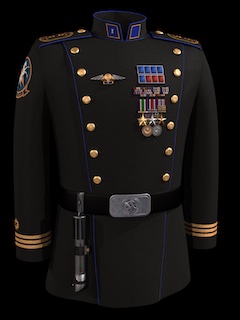 Thunder Squadron's report came back and confirmed what the intel from Firebird Squadron predicted: less then a parsec away, an MC-75 cruiser and a pair of Nebulon-B frigates was patrolling a mineral-rich asteroid field. Firebird's X-Wings and Y-Wings, fitted with Rebel IFF transponders, had been tasked to pose as friendly ships from a nearby sector, and if they were successful, they were docked inside one of the frigate's hangars for "repairs". From their position they would be unable to report back to the battlegroup, but at the very least, Thunder reported no signs of combat or wreckage. On the M/INT Fairchild, Denys Elara addressed the pilots of Wing X's squadrons to confirm orders before the jump to hyperspace: they were to capture at least one frigate and cripple the rest of the rebel fleet. Inferno's TIE Interceptors would engage starfighters while their TIE Reapers provided cover to Cyclone's and Tempest's heavy assault craft; Typhoon would be on standby to escort Moonsoon's transports.
Last week was a news-heavy report, and this week's is no different. We welcome LT Synapse who joined us on November 2 and has already been promoted, as well as a promotion from SL to LT for Nindo Ardinn. It's the second week of HA Dempsey's competition, and now we have not one but two sets of TCiB battles to complete. MSEs have been reviewed and medals are pending, with nearly everbody earning something. Lastly, we have a few new competitions - so make sure to review the competitions towards the end of this report to see what's happening across the TIE Corps.
The TCPM has been updated as well, so take a look at the latest updates athttps://tc.emperorshammer.org/downloads/TCPM.pdf.
HA Dempsey's "Wake Me Up When November Ends" competition has started its second week. This week the competitions are:
Buildings that will stand the test of time: Identify the famous buildings.
Pilot's Arena: get as close to the score- not a high score- as possible.

Single player segment: XvT-Free #229; target: 11,394 pts
Multi player segment: Star Wars Squadrons: Fleet battle mode; target: 8,258 pts

What did you say?: read the quote, name the character.
Online insanity: Get the top score inBubble Shooter.
Musings of a madman: write fiction throughout the month featuring the Challenge or one of its pilots. You can submit up to three fictions, but each pilot is eligible for only one medal, and one set of points.
Read the COM report for the full information on the point breakdown, or visit the competition link below which explains it in detail as well.
October TCiB assignments are due November 12 and are:
November TCiB assignments are due November 30 and are:
Squadron Orders
This is the first week these orders are active. You will have until November 22 to finish these missions for the high score competition.
Congratulations to LCM Marek who had the high score last week!